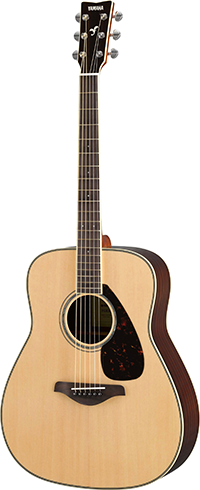 Yamaha FG830 Dreadnought Acoustic
Solid Sitka Spruce Top
Rosewood Back & Sides
Rosewood Fingerboard
Newly Developed Scalloped Bracing
Rich Overtones
MSRP: $495
---

---
Birth Of A Classic: The Best Acoustic Guitar For The Money
Yamaha created the FG series acoustic guitars back in 1966, with the intention of providing a very affordable, great-sounding, and well-built guitar that will last for years to come. Yamaha's first FG – the FG180 – quickly became a classic, appearing on countless hit records. In the subsequent fifty-plus years they've perfected this gem, improving the quality, playability, sound, and durability. With that kind of pedigree, it's not hard to imagine that the FG830 is the best acoustic guitar for the money.
Who Is This Guitar Best Suited For?
The Yamaha FG830 is very suitable for beginners, as well as intermediate and pro players. I should step back for a moment, and say I know that it can be daunting to find the guitar that's right for you, especially when you are first starting out. You walk into the "acoustic" room at your local guitar store, and there hangs a multitude of possibilities. My promise is to reduce the potential for overwhelm and narrow down the choices that will work for you.
It may be of benefit to you to also read my Best Acoustic Guitars For Beginners review for the reasons I chose the FG830 to be included in the list, as well as other acoustic guitar options.
I recently had a chance to sit down with this guitar and give it a thorough test drive. I consider myself to be in the pro/advanced category of player, and I immediately found this guitar to be very impressive – considering all it has to offer – especially at its low price point. Being a Martin owner for some time now, I have to say that this Yamaha does a fine job keeping up with the big dogs.
Comfort & Playability
For starters, this guitar has a dreadnought body, technically making it a full-size body. I found it very comfortable to hold. Likewise, the neck is also comfortable – especially for those of us with smaller hands, including myself. This is an added benefit for beginners on the younger side. With a nut width of 1-11/16 inches, a bit narrower than most dreadnoughts, and a 15.75-inch fingerboard radius, this makes playing barre chords a bit easier. All of this – combined with a reasonable action setting – contributes to an overall easier and more comfortable playing experience.
If you have concerns about the dreadnought body being too big for you, Yamaha makes the FS830, which is basically the same guitar with a smaller concert or parlor size body. I'll have a review for you shortly on this guitar. In the meantime, here's a chart comparing the size differences between the FG830 and the FS830.
Sound
The FG830's back and sides are constructed from rosewood, while the top utilizes Sitka spruce, making its sound bright and clear, with plenty of sustain. It's also well balanced with a sufficient range of high and low end to fill a room. Keep in mind this guitar does not come with electronics, so you will need to mic the guitar if you are playing to a larger room.

---
Durability
Considering Yamaha has been building this line of guitars since 1966, you can be assured they have perfected the process. They have perfected the process of creating a well built, yet affordable guitar. The result is a guitar that is quite durable. Back in the day, I owned a Yamaha and it was my beater guitar – the one that could take a lickin' and keep on tickin'… I took it camping and the worst that happened – it got dirty.
Affordability
With its MSRP of $495, this guitar will not break the bank. Again, I was pleasantly surprised by the quality of the FG830, learning that it indeed could give guitars costing hundreds, if not thousands of dollars, a run for its money.
What Buyers Say About This Guitar
With eighty plus reviews, at an average of 4.7 out of 5 stars, the FG830 gets high marks from the majority of buyers. Most folks are pleasantly surprised at the quality – sound and playability – at this price point.
Most of the negatives, if you can call them that, pertain to the saddle, nut, and bridge pins which are made from plastic. The buyers who made this comment tended to be seasoned players who also indicated that this has a simple remedy, a low-cost upgrade.
Prominent Features
Pro looks, sound and playability at entry level pricing
Beauty and detail – pearl inlay around the sound hole, the Yamaha logo and fret markers
Comfortable dreadnought body with tapered waist fits most players
Solid spruce provides a full and balanced sound
Rosewood back and sides add clear tones
Scalloped bracing improves punch and projection
Slim, tapered neck with fast satin finish makes for easy hand movement
Rosewood fingerboard with comfortable rounded edges
Comes in a choice of three finishes: Natural, Tobacco Brown Sunburst and Autumn Burst
Newly Developed Scalloped Bracing
What's in the Box
The FG830 doesn't come with a case, but there are numerous online vendors who offer bundles that include, for example, a hardshell case, tuner, strings, strap, and picks.
Verdict/Conclusion
To sum up Yamaha's FG830 I have to say I came away wanting to add this sleeper to my collection. As much as I love my higher-end guitars, there is some trepidation that enters into the equation when you want to leave the house with it for a gig. So, the idea that for a few Benjamin's I can grab a great guitar and not obsess about it… Oh yeah!
Pros
Seriously… If you are a beginner or intermediate player, this guitar will hang in there as you grow and improve. I honestly believe that because Yamaha has been making this line of guitars now for five decades, and has worked out the bugs, you can be assured of its durability. The feel, playability, and sound quality will for sure make you think you are playing a higher-end, more expensive guitar.
Cons
Again, looking at the FG830's minor negatives… The guitar doesn't come with a case, but as I indicated there are vendors who include a case and some nice accessories. Also, the fact this guitar doesn't come with electronics may be a deal killer for some. Finally, the saddle, nut, and bridge pins that are made from plastic is a turn off for some folks. These items can easily be swapped for ones made from bone for not very much money.
Lastly, some smaller adults and kids may find this dreadnought body to be a bit too large for them. For those cases, I recommend the FS830, the concert size guitar. And if you missed it above, I will be posting a review of that guitar shortly. Also, here's a comparison of the sizing between the FG830 and the FS830.
After all is said and done, I believe you will have a fine guitar that will support you, whether you are a beginner or pro, for years to come. Hopefully you'll agree with me that this guitar is the best acoustic guitar for the money. Let me know your thoughts in the comments, below.
See Amazon's price for the Yamaha FG830
---