Taylor Academy 10E Acoustic/Electric
Dreadnought Body
Solid Spruce Top
Sapele Back & Sides
Built-in Arm Rest
ES-B Electronics w/ Built-in Tuner
MSRP: $649
---

---
Intro
In my quest to find the best acoustic guitar for beginners, I recently test drove the Taylor Guitar's Academy Series 10e down at my local Guitar Center. Taylor specifically developed this series for folks wanting to learn how to play guitar. Their goal was to remove all the barriers that can get in the way, from feel to sound to cost – the barriers that can keep new players from staying focused and motivated.
I concur that many blocks can get in the way of your staying focused on the journey towards mastering the guitar. Unless you have a guitar that is easy to play, sounds good and stays in tune you probably won't stay with it. And, it shouldn't break the bank to own a guitar that fills these criteria.
Taylor, a well-respected name in guitars, has developed an easy to play, good sounding guitar, at an affordable price point.
Who Is This Guitar Best Suited For?
There was a time when learning how to play guitar meant one would have to settle for Uncle Joe's guitar, you know, the one collecting dust in the attic. Its action was too high, the neck was a bit warped and it just wouldn't stay in tune. Yet, you were determined to muddle through. Forget about buying a good, name brand… That was either for pros or folks with money to burn.
Fast forward to today, to a time where guitar builders, such as Taylor, actually design and build with the student in mind – not just the pro.
The cool thing about this approach is the fact that attention and focus have been placed on the foundational functionality of the guitar. The result is a guitar that not only will keep beginners motivated, but also intermediate and highly experienced players will find enjoyable to play.
If you are new to the guitar, it may be of benefit to you to also read my Best Acoustic Guitars For Beginners review for the reasons I chose this Taylor to be included in the list, as well as other acoustic guitar options.
Comfort & Playability
The Academy 10E is considered a dreadnought style body, yet it feels smaller – more compact.
For starters, Taylor decided that it would be their goal to make the guitar as comfortable as possible. One of the things they did was to create an armrest so that your arm is more relaxed, and doesn't rest on the edge of the body, as it would on a more traditional guitar.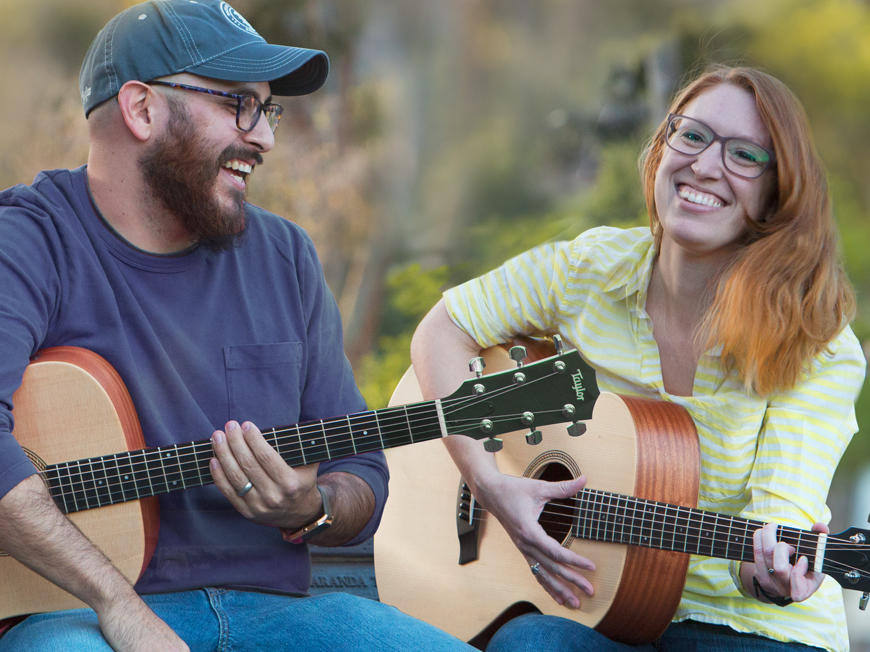 With a neck width of 1-11/16 inches and a fretboard made from West African Ebony, I found this guitar super easy to play. It's specifically designed for young players, and adults with smaller hands.
---
Sound
Guitar sounds tend to be subjective. It's the Coke vs. Pepsi dilemma, I suppose… As much as I like the playability of Taylor's, I tend to find their sound to be a bit on the mid-rangey side. Clearly, they are quite popular and you see them played by pros in many venues. Personally, I feel they sound best when amplified, as you can achieve a fuller sound using the tone adjustment via the electronics control on the guitar, or even utilize a peripheral EQ unit.
With all that said, please judge for yourself by test driving the guitar. In the meantime, check out the video below for a sample of the sound quality of the 10E.

---
"The cool thing about this approach is the fact that attention and focus has been placed on the foundational functionality of the guitar. The result is a guitar that not only will keep beginners motivated, but also intermediate and highly experienced players will find enjoyable to play."
Durability
The Academy 10E is a solid guitar. It feels solid when you hold it, and when you play it. Taylor knew when they designed and developed this guitar it had to be durable as it was aimed for those not only learning to play but also learning how to care for a guitar. There are no aesthetic frills – the guitar doesn't need to be babied. It's just a simple, yet tough guitar that has been built to last.
Affordability
Taylor developed this guitar with the idea it has everything it needs and nothing it doesn't. Therefore, while it is a very substantial guitar from a playability standpoint, it is certainly a no-frills guitar from an aesthetic standpoint.
Combine a streamlined process, and a factory in Mexico, you get a fine guitar at an affordable price. As I recently heard someone say – Mexico is a fine middle ground for production. You're getting pretty decent craftsmanship – without American labor costs while avoiding the mass production, and lower quality coming out of China.
What Buyers Say About This Guitar
With an average of 4.8 out of 5 stars, the Taylor Academy 10E receives high marks from folks who have purchased the guitar.
Most reviewers were drawn to the Taylor because of its positive reputation, and they felt that reputation was warranted, especially after having played it.
There was a consensus regarding how easy the guitar is to play, how comfortable it is to hold, and how good the sound quality is.
The negative comments were relatively minor in the grand scheme. One reviewer thought the neck was a bit narrow for those with larger hands. Another reviewer commented that the batteries powering the electronics wear out too quickly. Finally, one reviewer felt the look of the guitar is too basic.
Prominent Features
Body:
Body type: Taylor A10 Dreadnought 15/16th-Scale
Top wood: Solid Sitka Spruce
Back & sides: Layered Sapele
Bracing pattern: Academy Series Bracing
Body finish: Matte 2.0 Varnish
Orientation: Right handed

Neck
Neck shape: Taylor Standard Profile
Nut width: 1.69 in. (43 mm)
Fingerboard: Genuine African Ebony
Neck wood: Saplele
Scale length: 24.87 in.
Number of frets: 20
Neck finish: Matte 2.0 Varnish
Electronics
Pickup/preamp: Yes
Brand: Taylor
Configuration: Behind the saddle transducer
Preamp EQ: 1-band
Feedback filter: No
Tuner: Yes

Other
Headstock overlay: Lexan
Tuning machines: Chrome Tuners with Chrome Buttons
Bridge: Genuine African Ebony
Saddle & nut: Micarta "Wave"/NuBone Nut
Number of strings: 6-string
Case: Deluxe Taylor Gig Bag
Country of origin: Mexico
What's in the Box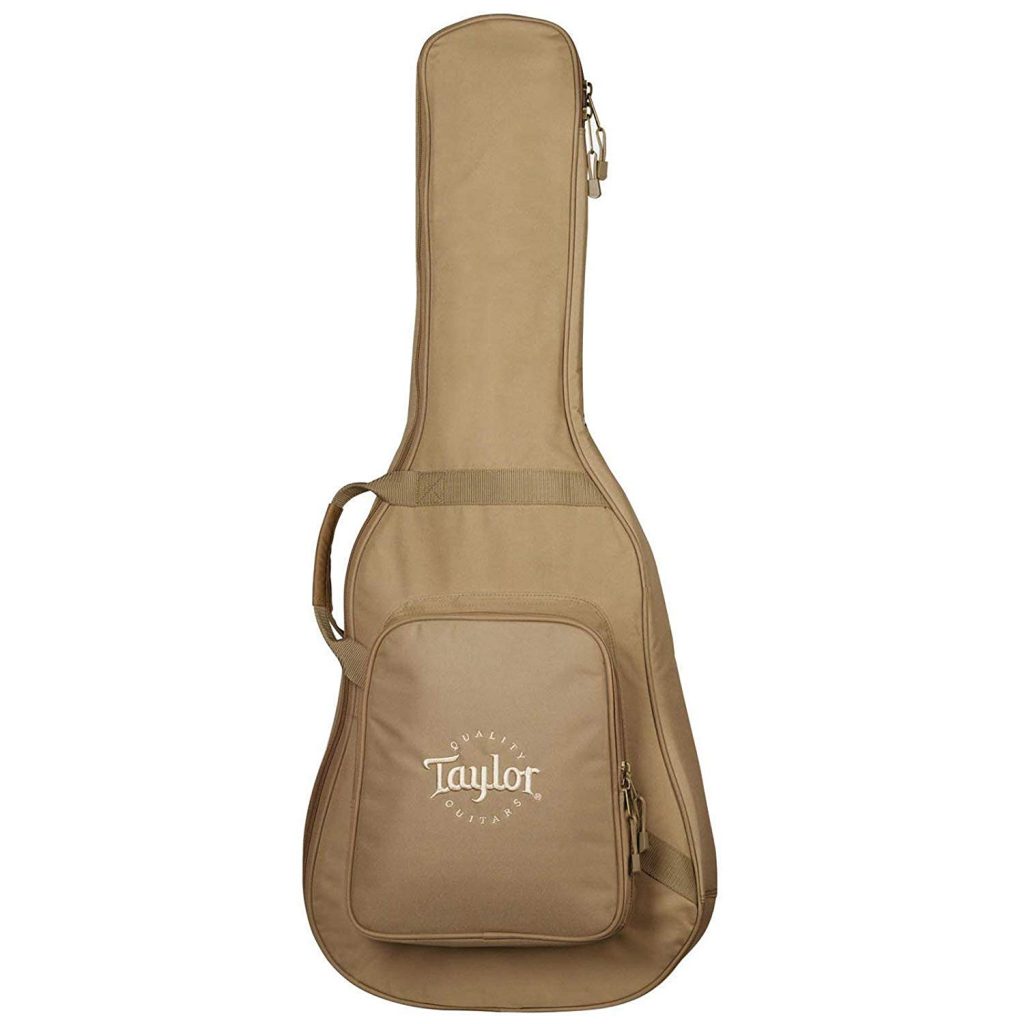 Included with your purchase of the Academy 10E, you get a nylon gig bag.

Thick padding keeps your guitar safe
Hard foam top and bottom and PVC sidewalls keep your guitar safe from dings and scratches
Heavy-duty handle and shoulder strap for carrying your guitar
Verdict/Conclusion
Typically, the "Student/Budget" guitar hasn't been an instrument that instills a sense of joy and inspiration. From the moment I sat down with this Taylor – from the way it felt sitting in my lap, to the feel of my hand wrapped around its neck, I was indeed inspired. It is quite gratifying when there's a feeling of comfort, the way your hand fits around the neck and your fingers easily dance around the fretboard – almost effortlessly. That's blissful!
For sure, this is not your dad's beginner guitar. I kept wondering to myself how they were able to get all of the requirements met for a fully functional guitar at beginner pricing. All I can say is I wish I had this guitar when I was starting out.
To wrap up, I believe this would be an ideal starter guitar if you are thinking about purchasing your first guitar, or even if you are an intermediate hobbyist who wants a guitar to take camping, or to the park.
You'll be investing in a guitar that is easy to play, fun to play, consistent, and has a pretty decent full sound – amplified or not. Lastly, knowing it's a Taylor, it should hold its value and will last for many years. Therefore, my conclusion is that the Taylor Academy 10e – is the best acoustic guitar for beginners.
Pros
Smaller dreadnought body
Easy to play
Comfortable to hold
Built-in Arm Rest
ES-B Electronics w/ Built-in Tuner
Narrower neck for smaller hands
Nice overall sound quality
Taylor quality and reputation
Cons
Made in Mexico
Austere/Minimalist look
Laminated Sapele back & sides
Mid-rangey sound
Neck may be too narrow for larger hands
See Amazon's price for the Taylor Academy 10e
---