Mitchell T313CE Acoustic/Electric
Auditorium-size cutaway design offers easy playability
Solid spruce top for detailed high-end; gloss finished top
Mahogany back and sides for a warm, rich sound
Mahogany neck with rosewood fretboard and bridge
Forward-shifted X-bracing provide deeper overall resonance
Genuine Fishman pickup and preamp for full sound reproduction
MSRP: $279
---

---
Best Acoustic Guitar Under $500?
I was recently down at my local Guitar Center, testing various guitars that I'm writing reviews for. As I was browsing the usual suspects, I noticed a Mitchell, and to be honest, it was a brand I had never heard of. Based on its price point, I just assumed it was a cheap, subpar beginner guitar. Knowing that I'm reviewing beginner guitars, or more to the point – guitars in the under $500 category, I thought I'd give it a try. I picked out the T313CE model from Mitchell's Terra series. I was extremely surprised at how nice this guitar is – from its ease of playability to its quality of sound. No one was more shocked than me to find that this hidden gem is my pick for the best acoustic guitar under $500.
Mitchell Guitars is owned and developed by Guitar Center, and is their house brand. The T313CE is an acoustic/electric model that is auditorium sized – smaller than a dreadnought. The cutout makes for easier access to the highest frets. The quality of this guitar far exceeds its price.
Who Is This Guitar Best Suited For?
If you were to base your buying decision only on this guitar's price, you almost can't go wrong. Compared to other guitars in the under $500 range, this instrument definitely stands out. In reality, you can get this gem for under two bills…
So, as a starting point, if you're concerned about a tight budget, or whether or not to make a serious investment in an instrument, this guitar could be a good choice for you, since it won't break the bank.
With its body classified as "Auditorium" rather than "Dreadnought", it's smaller in scale and will be a better fit for smaller folks, and folks with smaller hands.
If you're like me, an experienced player, I believe you'll also find this guitar to be quite enjoyable to play. The guitar has a solid feel, good intonation, and a bright sound.
It may be of benefit to you to also read my Best Acoustic Guitars For Beginners review for the reasons I chose the Mitchell to be included in the list, as well as other acoustic guitar options.
Comfort & Playability
The "Auditorium" size body makes this a very comfortable guitar to hold and play. The cut-away style also makes for easier access to the higher frets.
The slim C-neck design, with a satin finish and rosewood fretboard makes for comfortable fingering. This is a better fit for younger players and those with smaller hands trying to get used to sliding up and down the neck as they hone their skills.
Sound
I was pleasantly surprised by the sound of the T313CE. I can fully understand, and appreciate, the fact many guitar players are turned off by the notion of guitars built with laminates, instead of pure tonewoods. Based on the price point, laminates used in construction, keep the cost low. Most important – with regard to this guitar's sound – is the use of a solid spruce top, to achieve a bright tone. The mahogany laminate back and sides, plus an open-pore satin body finish and forward-shifted X bracing, contribute to its deeper resonance.

---
Durability
This Mitchell guitar feels very solid, on par with guitars costing 2-3 times more money.
As I've learned over the years, if a guitar stays in tune, the intonation is good and the neck is straight, the guitar should last many years, and give you lots of enjoyment.
And again, per the price point, you shouldn't have any qualms about taking this guitar out of the house – on tour or camping.
Affordability
I found myself double-checking the price a couple of times as I was somewhat in disbelief that it would be possible to build this nice a guitar at this price point.
What Buyers Say About This Guitar
With twelve reviews, averaging 4.7 out of 5, buyers are overall happy with their purchase of this guitar.
More than a couple of reviewers stated they had intended to spend more money, purchasing a (sub $1000) Taylor or Martin. After trying out the T313CE they liked the sound, quality, and value of the Mitchell better, and ultimately purchased the Mitchell.
The one negative review was regarding an alleged factory defect.
Prominent Features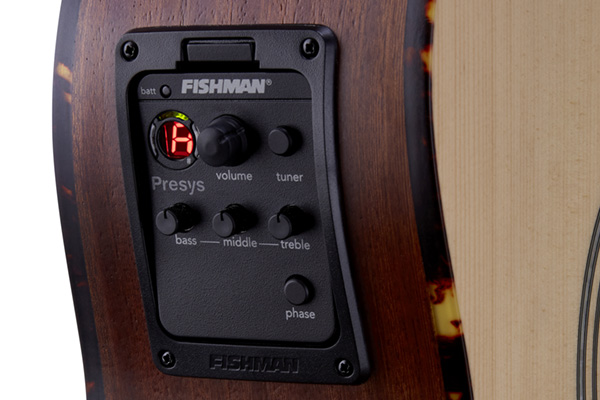 The T313CE comes with a built-in Fishman Presys preamp and Fishman Sonicore pickup. This gives you a simple 3-band EQ to better shape your sound when plugged in, as well as a phase filter control, volume control and a tuner. Its specially designed housing makes battery swaps stress-free. A simple push unlocks the preamp, which opens it up, giving you access to the battery underneath. With no clips to deal with, you can easily swap batteries and get right back to playing.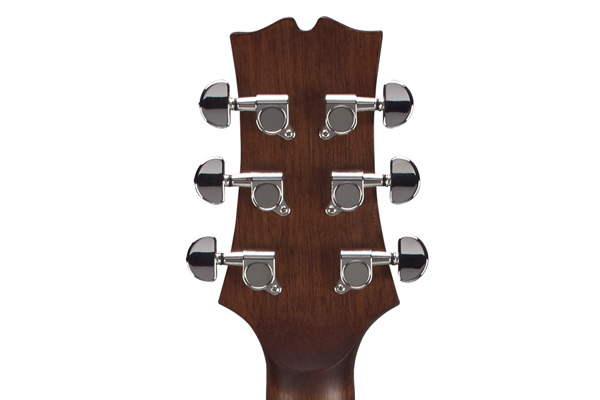 Mitchell equipped the T313CE with high-ratio sealed gear tuners. This ensures quick, stable tuning for great performance every time you pick it up. Other appointments that separate it from most acoustic guitars in its class include a single-cutaway for more fret access, beautiful rosewood headplate overlay, abalone and multi-ring rosette, TUSQ nut and saddle, black pickguard, and a natural gloss top finish.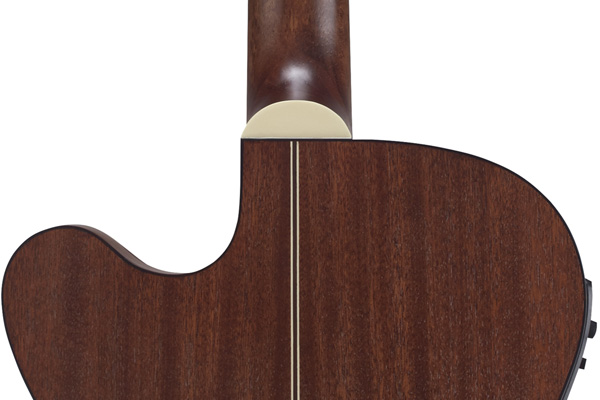 The T313CE is crafted with a comfortable, satin-finished, slim-C neck design. This is ideal for younger players and those with smaller hands trying to familiarize themselves with sliding up and down the neck as they hone their skills. Experienced players will enjoy its familiar feel. Its rosewood fingerboard adds even more warmth.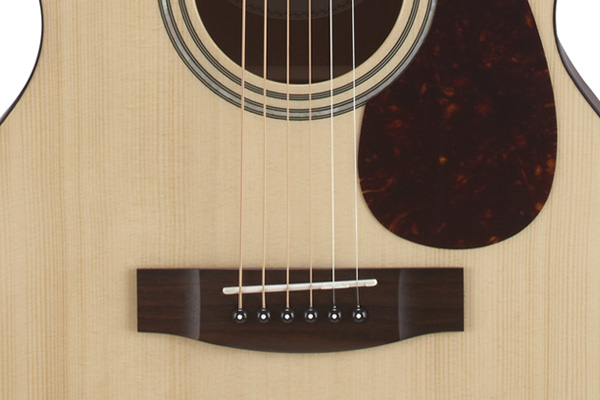 The T313CE features a solid top, spruce in this case, paired with striped mahogany back and sides. Add to that an open-pore satin body finish and forward-shifted X bracing, and you've got a guitar with natural good looks that offers rich, warm tone with a detailed high end and deeper resonance right out the box.
What's in the Box
To keep the cost of this guitar low, you only receive the guitar. A hardshell case or gig bag, to protect your new instrument, is sold separately.
Verdict/Conclusion
To recap, I found the Mitchell T313CE to be a surprisingly good little guitar, especially considering its price point. There's something you know immediately when you first pick up a guitar, when you wrap your hand around the neck, and press your fingers down onto the fretboard. If it's comfortable, chances are high the sound will be good, too.
I must admit, I don't fully understand how these guitars are made with cheaper quality wood products, yet manage to sound as good as more expensive guitars. It must be engineering magic!
At any rate, you can be the owner of a fine instrument that will give you lots of enjoyment, whether you're a beginner, or have been playing for years. And – it won't keep you from sending junior to college.
Pros
Good Feel
Easy to Play
Fun to Play
Good Quality
Affordable Price
Stays in Tune
Good Sound
Cons
Laminates used for Back and Sides
Built in Indonesia
No Case Included
---